RI Veteran Treatment Court
No Soldier Left Behind
Veterans Treatment Calendar
Noel Judicial Complex
222 Quaker Lane
Warwick, Rhode Island 02886-0107
(401) 458-5106 | [email protected]
The first Veterans Treatment Calendar in New England opened its doors for referrals in the District Court in April 2011. The designated calendar, which was initially part of a pilot program funded through a SAMHSA (Federal Department of Substance Abuse and Mental Health Services) grant, was designed to direct veterans, diagnosed with trauma related disorders, into a court program which integrates support and treatment plans with the judicial process. It is intended to divert the offenders away from incarceration while providing appropriate rehabilitative alternatives. For more information on programs related to the SAMSHA grant that are on the District Court Pretrial Services webpage, please click here.
Recent statistics indicate close to 1.7 million Americans have served in Iraq or Afghanistan. While a significant number, nationwide this is less than one-half of 1% of our national population. Rhode Island has given more than its fair share to those statistics. The call back of our own National Guard is the 2nd highest in the entire United States. As of September 30, 2010, the number of veterans living in Rhode Island who served in the Gulf Wars is three (3) times the national per capita average.
Most of these veterans, amazingly, return home and successfully reintegrate into the fabric of society. There is, however, and increasing number of individuals who are not able to successfully do so. Studies now indicate that one (1) in three (3) returning will exhibit some symptoms of mental illness. Of course, not all of them will wind up in the criminal justice system.
The Rhode Island District Court is in a unique position to take on the responsibilities of a Veterans Treatment Calendar as a designated calendar to which these veterans can be referred. The District Court is the threshold to our Rhode Island criminal justice system. Defendants charged with misdemeanors and felonies first appear in District Court for an arraignment. The District Court sets bail at the arraignment, sets the conditions of bail, and through the Pretrial Services Unit, the court monitors the compliance of those conditions. The District Court has an extensive collaborative network for referrals for substance, alcohol, and other behavioral issues. In excess of 40,000 new criminal cases are processed each year in the District Court.
Mission:
As a problem-solving court, the mission of the Veterans Treatment Calendar is to successfully rehabilitate participants, on a case-by-case basis, by providing the tools and skills necessary to address veterans' unique challenges to reintegrate successfully into society and to maintain a productive and law-abiding lifestyle within the community.
Goals of the Veterans Treatment Calendar:
Reduce criminal recidivism.
Recognize and treat unseen/invisible injuries resulting from combat or other trauma/service-related conditions.
Facilitate productive reintegration into community.
Increase compliance with court ordered conditions.
Successfully address behavioral health issues.
Promote accountability.
Balance needs and expectations of maintaining a safe society with appropriate treatment and rehabilitation.
Other Practice Areas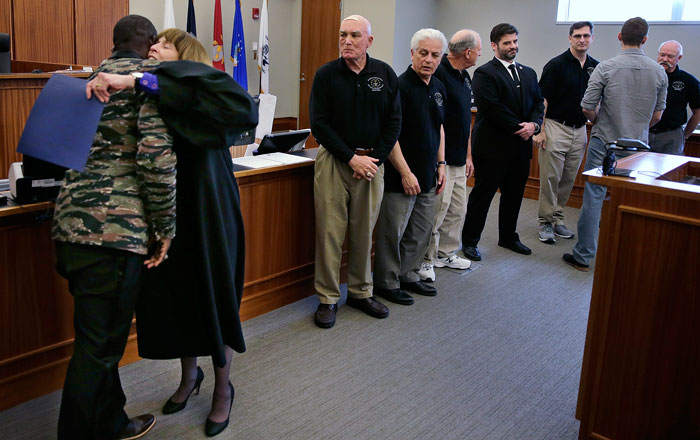 Contact Us
1010 Hartford Ave.
Johnston, Rhode Island 02919