Expungements
A criminal record can provide barriers in many facets of a Veteran's life. The two most prominent areas are in employment and housing.
Employment & Criminal Records
In the State of Rhode Island it is illegal for an employer to inquire about an applicant's criminal history on their job application. The "Ban the Box" law was enacted in 2014, and while most employers complied with this law, there are still people unaware of this right. If you see this question on an application, you are under no obligation to answer it, and can cite R.I.G.L. § 28-5-7(7).
R.I.G.L. § 28-5-7(7) makes it an unlawful employment practice "[f]or any employer to include on any application for employment . . . a question inquiring or to otherwise inquire either orally or in writing whether the applicant has ever been arrested, charged with or convicted of any crime," subject to limited exceptions. While this law protects potential employees when filling out their applications, the statute goes on to state: "(iii) Notwithstanding, any employer may ask an applicant for information about his or her criminal convictions at the first interview or thereafter, in accordance with all applicable state and federal laws."
So, while the employer cannot ask about criminal history on the application itself, it is allowable to ask about it once you are presented with the opportunity for an interview.
Additionally, in the State of Rhode Island, there is a public portal in which ALL CONTACT an individual has with the state court system is available, publicly, for anybody to access. This includes contact for criminal cases, evictions, workers' compensation cases, traffic tickets, family law cases, restraining orders, and much more. It is strongly recommended that everybody look up their own record to see what is publicly available. The portal can be accessed HERE.
Housing & Criminal Records
Most, if not all, subsidized housing applications will ask about criminal history, and this is allowed. The majority of housing authorities and subsidized housing associations in the State of Rhode Island have what is called a "Tenant Selection Plan." This plan outlines what criteria the housing authority is looking for in a potential tenant, and provides reasons to turn people away. The vast majority of these tenant selection plans have a section about criminal records.
While most authorities only look at misdemeanors and felonies for the past 5-10 years, they almost always look for violent offenses of which you were convicted of at any point in the past, even if it is farther back than their plan outlines.
Having a recent criminal record is grounds to be denied subsidized housing, and can be a significant barrier in removing people from homelessness when they are of low income and cannot afford private housing.
Additionally, the majority of private landlords outside of the subsidized housing world run background check on potential tenants. They also rely on the public portal and this is significantly cheaper than paying for a private background check. When they do this, they not only look at your criminal record, but they also look at any evictions that may show up. It is allowed. Landlords may screen potential tenants for criminal records and are encouraged to do so.
Our Process
Operation Stand Down Rhode Island is proud to provide FREE expungement services for Veterans in need.
This entire process takes approximately 2-5 weeks depending on the speed of the RI Court system and your cooperation with staff, and your OSDRI attorney will be with you every step of the way, explaining the process and making it easier for you to access employment or housing.
For more information, or for your FREE individual consultation, please contact Legal Assistance for Warriors at (401) 383-4730.
Other Practice Areas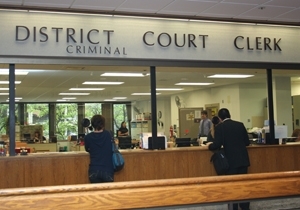 Contact Us
1010 Hartford Ave.
Johnston, Rhode Island 02919