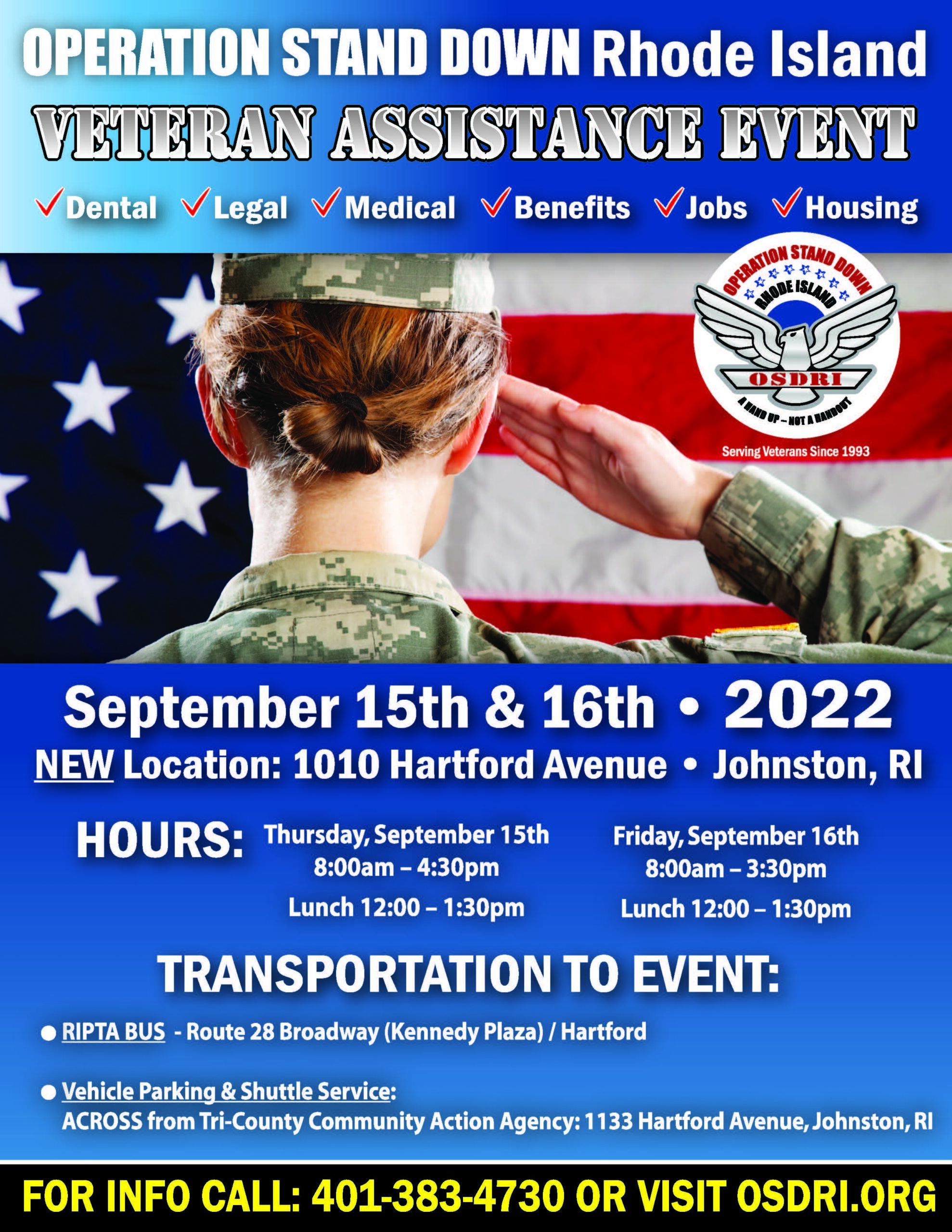 September 15th & 16th, 2022
Operation Stand Down Rhode Island (OSDRI) is set to kick off its 31st annual Veteran Assistance Event on September 15th at 8 a.m. This Veteran Assistance Event will be held at OSDRI's Veteran Service Center located at 1010 Hartford Avenue in Johnston. Services will be available from 8:00 – 4:30 on Thursday 9/15, and 8:00 – 3:30 on Friday 9/16. 
"Since its inception in 1993, the annual event has provided thousands of veterans with access to important services including health, dental, and substance abuse care, as well as employment, legal, and housing services. After holding a scaled back event during the pandemic in 2020, OSDRI expects a full roster of service providers this September." said Erik Wallin, Esq. Executive Director of Operation Stand Down RI.
The event will be held at OSDRI's Veteran Service Center, located at 1010 Hartford Avenue in Johnston. Veterans may access the location via RIPTA bus Route 28 which operates out of Kennedy Plaza and stops at the corner of Hartford and Bordon Avenue. Those arriving via their own vehicle must park and take a shuttle from behind the paved parking area ACROSS from Tri-County Community Action Agency: 1133 Hartford Avenue, Johnston, RI 02919
Although no overnight lodging is available, lunch will be provided on both Thursday the 15th and Friday the 16th from 12:00 – 1:30.
If you are an organization wishing to attend as a service provider please e-mail osdri@osdri.org.
If you want to sponsor a tent please register here or contact sponsorships@osdri.org for more details.
OSDRI News & Events
OSDRI hosts a variety of events thoughout the year to honor and commemorate our brave veterans and to raise money for our mission to serve them.
Contact Us
1010 Hartford Ave.
Johnston, Rhode Island 02919