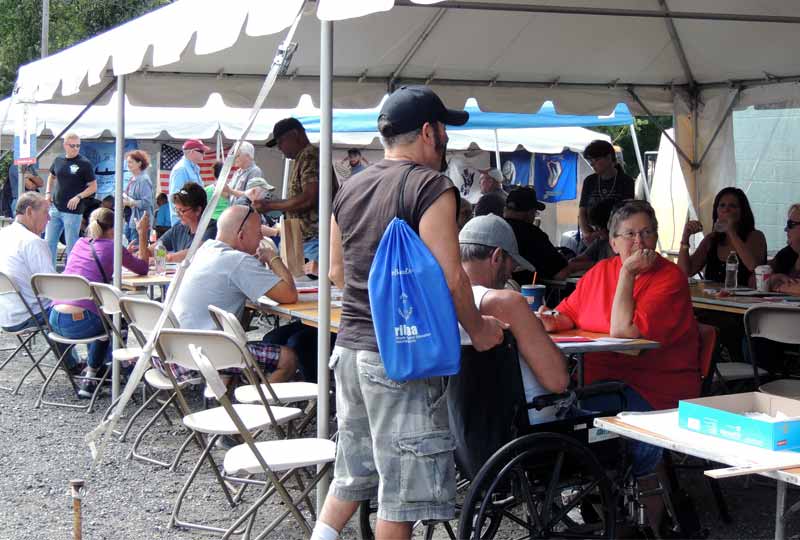 Stand Down Weekend
2021 Date TBA
Operation Stand Down Rhode Island (OSDRI) kicked off its 29th annual outreach weekend on September 18, at 8 a.m. The annual event was relocated from its traditional location and the scope reduced in order to comply with COVID-19 restrictions.
"We believe the event to be such a staple in the veteran community and far too important for our struggling veterans to cancel in light of the global pandemic so we have chosen to scale it back and modify the event to ensure veterans are still able to access the most essential services available," said Erik Wallin, Esq. Executive Director of Operation Stand Down RI.
Since its inception in 1993, the annual event has provided thousands of veterans with access to important services including healthcare, dental care, employment services, legal services, social welfare benefits, housing assistance, and clothing.
This year the event will be scaled back and feature a modified version of services to include; VA Medical Health Screenings, Flu Shots, and Pneumonia Shots (follow on appointments for other services will be made on site); Legal consultations and services; Veteran Disability Claims, VA Enrollment, and Social Security Disability Claims; Housing Services; Employment Services and; Distribution of Food and Personal Hygiene Care Packages. Bagged lunches will be provided to event participants.
OSDRI partnered with RIPTA to provide transportation to the event. RIPTA Bus service will begin at 8:00 am on both Friday and Saturday from Kennedy Plaza to Johnston War Memorial Park with last returning RIPTA Bus departing at 4:00 pm. Shuttle service will be provided between Memorial Park and OSDRI Veteran Service Center.
Attendees to the event will be screened for COVID-19 symptoms and veteran status verified at Johnston Veterans War Memorial Park 1583 Hartford Ave, Johnston, RI.. They will then be shuttled approximately one mile from the park to the Anthony DeQuattro Veteran Complex where all services will be provided.
Due to Covid-19 restrictions only VA eligible veterans (not their dependents) will be permitted to attend this year's Stand Down Weekend. Additionally, OSDRI is unable to provide overnight accommodations, however, veterans experiencing immediate homelessness will be placed into emergency housing.
All Veterans, volunteers, and service providers attending the event are required to wear masks and practice social distancing.
Thank you to our Partners
The Horace Kimball Foundation and Bank RI provided financial support to make the event possible.
OSDRI News & Events
OSDRI hosts a variety of events thoughout the year to honor and commemorate our brave veterans and to raise money for our mission to serve them.
Contact Us
1010 Hartford Ave.
Johnston, Rhode Island 02919