Patriots Alumni Cheerleaders NEPCAA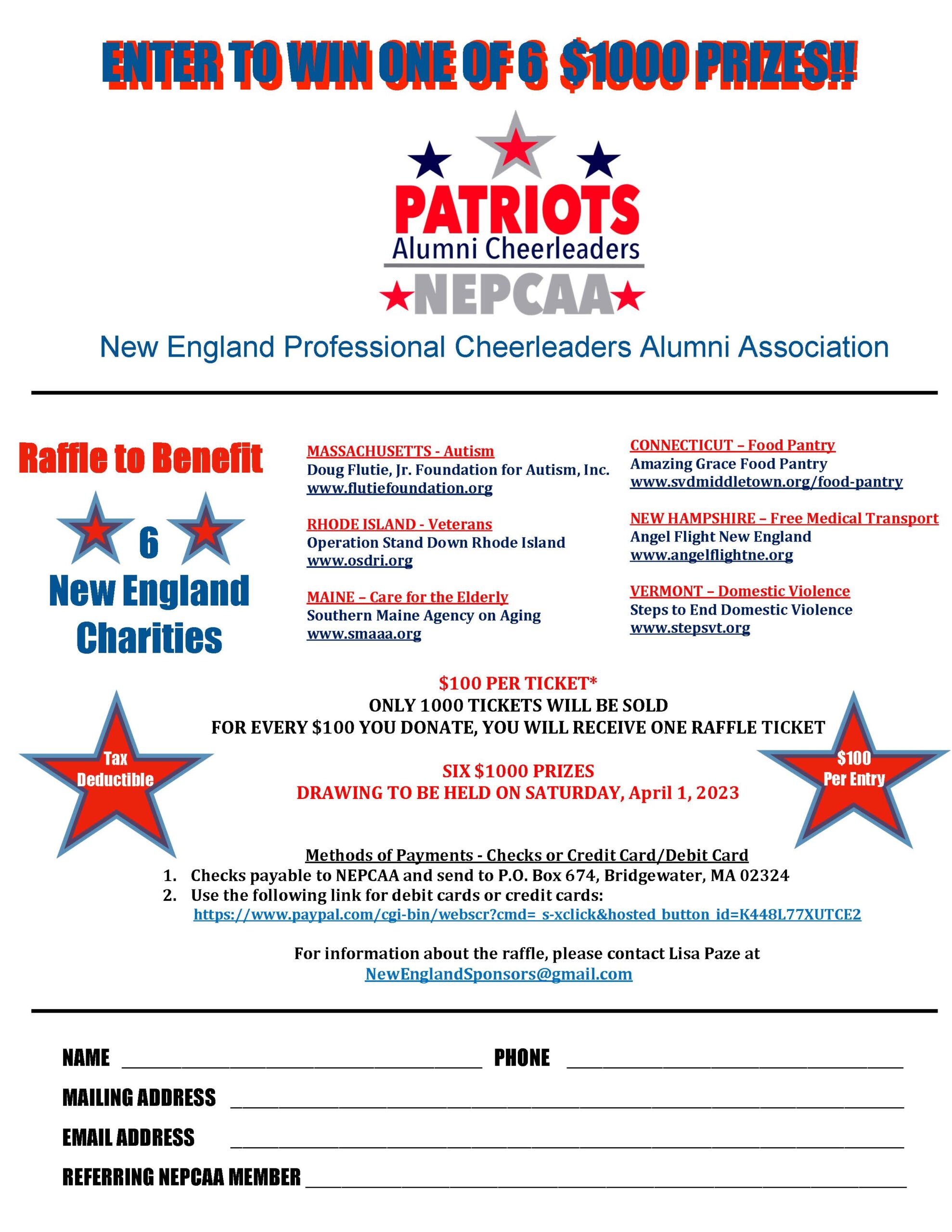 ENTER TO WIN ONE OF SIX $1,000 PRIZES!!
New England Professional Cheerleaders Alumni Association
Raffle to Benefit Six New England Charities:
MASSACHUSETTS – Autism
Doug Flutie, Jr. Foundation for Autism, Inc.
www.flutiefoundation.org
RHODE ISLAND – Veterans
Operation Stand Down Rhode Island
www.osdri.org
MAINE – Care for the Elderly
Southern Maine Agency on Aging
www.smaaa.org
CONNECTICUT – Food Pantry
Amazing Grace Food Pantry
www.svdmiddletown.org/food-pantry
NEW HAMPSHIRE – Free Medical Transport
Angel Flight New England
www.angelflightne.org
VERMONT – Domestic Violence
Steps to End Domestic Violence
www.stepsvt.org
$100 PER TICKET*
ONLY 1000 TICKETS WILL BE SOLD
FOR EVERY $100 YOU DONATE, YOU WILL RECEIVE ONE RAFFLE TICKET
SIX $1000 PRIZES
DRAWING TO BE HELD ON SATURDAY, April 1, 2023
Methods of Payments – Checks or Credit Card/Debit Card
1. Checks payable to NEPCAA and send to P.O. Box 674, Bridgewater, MA 02324
OSDRI News & Events
OSDRI hosts a variety of events thoughout the year to honor and commemorate our brave veterans and to raise money for our mission to serve them.
Contact Us
1010 Hartford Ave.
Johnston, Rhode Island 02919