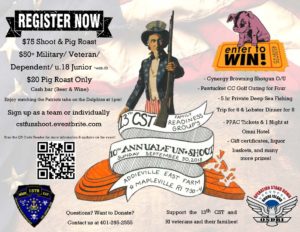 Come out to support the 13th Civil Support Team (CST) Family Readiness Group (FRG) 10th Annual Fun Shoot. The Family Readiness Group (FRG) is a non profit organization made up of the spouses, family and friends of the active military unit. Their role is to support the members of their unit and their families of the military in times of trouble and need.
The 10th Annual Fun Shoot is held annually at Addieville East Farm in Mapleville, RI. The event is a multi station sporting clay event followed by lunch, bar and raffles.
We welcome all; shooting enthusiasts, those that want to join us for lunch or those that just want to suport a great cause!
No experience is necessary.
Please click the link below to register. Like them on Facebook to get more information and to get updates on the event!