Throughout America's history it has been our military members' training, values, leadership, teamwork and "can do attitude" that carried our nation through great challenges of our times. These same skills make veterans good for an employer's bottom line.
Despite these invaluable attributes, our veterans face many challenges in reintegrating into the workforce, especially those that are homeless. Whether it is limited "in-demand" work skills, unstable housing, physical or emotional injuries Operation Stand Down Rhode Island's Veteran Employment and Training Specialists (VETS) can help.
Operation Stand Down Rhode Island is able to work with ALL VETERANS in need of work through both private and federal grant programs.
The Homeless Veterans' Reintegration Program  and Supportive Services for Veterans Families targets homeless and at-risk veterans for employment.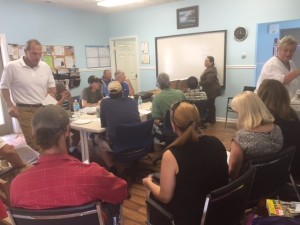 Combining the resources of OSDRI's fifty units of permanent and transitional housing for homeless disabled veterans, the Supportive Services for Veterans Families (SSVF) program and the Homeless Veterans' Reintegration Program (HVRP), Operation Stand Down Rhode Island implements the "whole veteran" approach focusing on removing barrier s to employment.
Operation Stand Down Rhode Island's Employment and Training Program is focused on providing homeless and at-risk veterans the employment and training services they need in order to re-enter the labor force. Job placement, training, job development, career counseling, resume preparation, are among the services that are provided. Supportive services such as clothing, provision of temporary, transitional, and permanent housing, referral to medical and substance abuse treatment, and transportation assistance are also provided to meet the needs of this target group.
Eligibility Requirements for HVRP
To be eligible for the Homeless Veterans' Reintegration Program (HVRP), each of the following U.S. Department of Labor conditions must be met. Note that OSDRI may require additional eligibility criteria in addition to the criteria listed below.
1. Applicant must be a Veteran. A Veteran is a person who served in the active military, naval, air service, Merchant Marines, or was activated by Presidential order and served in another state or country while in the National Guard or Reserves, and who was discharged or released wherefrom under conditions other than dishonorable. Individuals who received a "dishonorable" discharge are ineligible for HVRP services.
2. Literally Homeless or Imminently at-risk of literal homelessness: Applicant must (1) be imminently losing their primary nighttime residence, (2) have no other residence, and (3) not have sufficient resources or support networks, e.g., family, friends, faith-based or other social networks, immediately available to prevent them from becoming literally homeless. To further qualify for services under category 1, the grantee must (4) document that the participant meets at least one of the following conditions: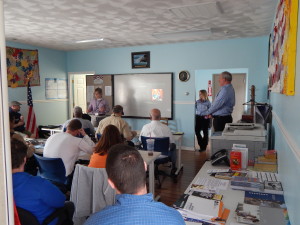 a) Has moved because of economic reasons two or more times during the 60 days immediately preceding the application for homelessness prevention assistance;
b) Is living in the home of another because of economic hardship;
c) Has been notified in writing that their right to occupy their current housing or living situation will be terminated.
d) Lives in a hotel or motel and the cost of the hotel or motel stay is not paid by charitable organizations or by Federal, State, or local government programs for low-income individuals;
e) Is exiting a publicly funded institution, or system of care (such as a health-care facility, a mental health facility, or correctional institution) without a stable housing plan;
f) Otherwise lives in housing that has characteristics associated with instability and an increased risk of homelessness, as identified in the recipient's approved screening tool.
Through grants from the Wal-Mart Foundation and Nordson, OSDRI is able to work with ALL veterans to help them find gainful employment. 
T

his allows OSDRI to help circumvent one of the causes of homelessness, lack of e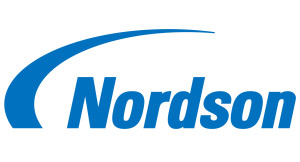 mployment and financial stability. OSDRI Employment Specialists will work directly with the veteran to match their specific skill set and interest with the needs of the employers in the OSDRI database. OSDRI will also help the individual address barriers to their employment.
All veterans in need who meet the above criteria, or those assisting such a veteran, are encouraged to call OSDRI at 1-800-861-8387 and ask to speak with an Veteran Employment and Training Specialist. If you are unsure as to eligibility please do not hesitate to call.