Throughout America's history it has been our military members' training, values, leadership, teamwork and "can do attitude" that carried our nation through great challenges of our times. These same skills make veterans good for an employer's bottom line.
Despite these invaluable attributes, our veterans face many challenges in reintegrating into the workforce. Whether it is limited "in-demand" work skills, unstable housing, physical or emotional injuries, Operation Stand Down Rhode Island's Veteran Employment and Training Specialists (VETS) can help.
Operation Stand Down Rhode Island (OSDRI) is able to work with ALL VETERANS and VETERAN SPO– USES in need of work through both private and state grant programs.
The Real Pathways Program administered by OSDRI is funded in part by funds received through the Governor's Workforce Board Real Pathways RI program."  Real Pathways RI is a workforce development initiative designed to address employment challenges of individuals with barriers to employment.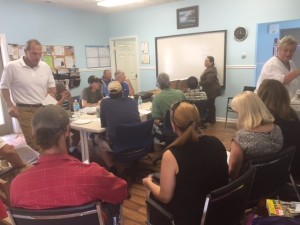 Combining the resources of OSDRI's 88 units of permanent and transitional housing for homeless disabled veterans, the Supportive Services for Veterans Families (SSVF) and the Real Pathways Programs, OSDRI implements the "whole veteran" approach focusing on removing barriers to employment.
OSDRI's Real Pathways Employment and Training Program is focused on providing veterans the employment and training services they need in order to re-enter the labor force. Job placement, training, job development, career counseling, resume preparation, are among the services that are provided.  Supportive services such as clothing, temporary financial assistance with housing, referral to medical and substance abuse treatment, childcare, legal assistance and transportation coordination are also provided to meet the needs of this target group.
All veterans and veteran spouses are eligible for employment and training assistance.  Some types of assistance under the program may be limited based on income.
Through grants from the Wal-Mart Foundation and Nordson, OSDRI is able to work with ALL veterans to help them find gainful employment.