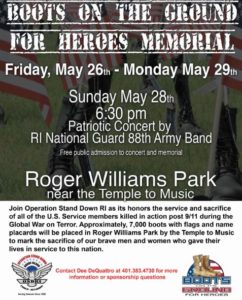 Operation Stand Down Rhode Island would like to welcome back our Boots on the Ground for Heroes Memorial.
Join us at the second annual "Boots on the Ground for Heroes Memorial" slated for Memorial Day weekend at Roger Williams Park by the Temple to Music. Last year, thousands came to the park to view this tribute to our fallen heroes. 6,844 military boots were placed in the park representing our U.S. Servicemen and women who gave their lives defending our nation's freedom in the Global War on Terror.
This year in lieu of a formal speaking program, we will be hosting a free Patriotic Concert in the Park on Sunday, May 28th at 6:30 p.m. featuring the Governor's Own 88th Army National Guard Band.
We hope that you will join us at this event and celebrate the lives and sacrifice of our nation's heroes.